Centon 📱 Cell Phones & Accessories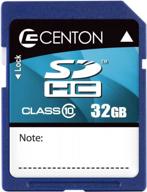 0 Review
Electronic flash memory data storage devices capable of storing digital contents. Portable storage for your videos, images, music or other files. Centon's cards offer the latest in flash memory upgrades for your digital cameras, digital camcorders, Netbook computers, and MP3/MP4 players.
Didn't find what you were looking for?
If you could not find on our platform the desired company or product for which you wanted to write a review, you can create a new page of the company or product and write the first review on it.