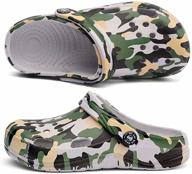 🦟 Comfortable Camouflage Slippers for Boys: BIG WASP Children's Shoes and Clogs & Mules

Review
3
Rating 
4.7
👟 Boys' Clogs & Mules, 👞 Boys' Shoes
View on Amazon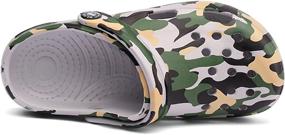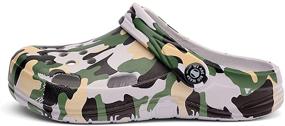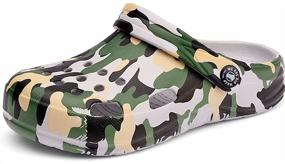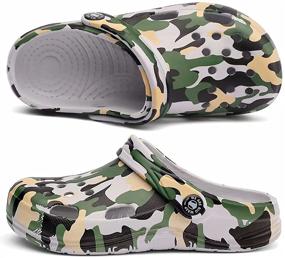 Description of 🦟 Comfortable Camouflage Slippers for Boys: BIG WASP Children's Shoes and Clogs & Mules
Product Highlights
Introducing our
Big Wasp Children Camo Slippers
, the perfect blend of style and functionality for young adventurers. Crafted with care and precision, these boys' shoes and clogs are designed to provide ultimate comfort and support during their outdoor escapades. Let's dive into the key features that make them stand out from the crowd.
Lightweight and Portable
Your child's comfort is our top priority, and that's why we've ensured that these camo slippers are
ultra-lightweight
to prevent any unnecessary burden on their feet. The slip-on style allows for effortless wearing and removal, while the heel strap keeps them securely in place, ensuring uninterrupted playtime. Moreover, the strategically placed drainage holes on the sides of the shoes prevent them from getting weighed down by excess water, making them ideal for beach adventures and outdoor water activities.
Cute Garden Shoes with Cartoon Patterns
These camo slippers are not only functional but also aesthetically delightful! The adorable
cartoon patterns
add a playful touch to their design, capturing the hearts of little ones. With a focus on comfort, softness, and durability, these shoes are perfect companions for hours of play in the garden or backyard. They are also remarkably easy to clean, breathable, fast-drying, and waterproof, ensuring a fuss-free and enjoyable experience for both kids and parents.
Reliable Quality and Cradling Comfort
We understand the importance of reliable quality when it comes to children's footwear. Each pair of these boys' clogs has undergone strict inspection during production to guarantee their
durability, support, and overall quality
. Created with Croslite foam, these clogs offer
dual comfort
, providing a blissfully supportive and cradling sensation for young feet. The lightweight and easy-to-wear design allows for unrestricted movement, enabling kids to explore and play to their heart's content.
Where Can You Use Big Wasp Children Camouflage Slippers?
Versatility is the name of the game for these camo slippers. Here's a numbered list of places where they shine:
On the beach for splashing in the waves
In the garden for outdoor playtime
By the poolside for carefree water fun
At summer camps and picnics for all-day comfort
For quick errands or casual outings
Give your little explorer the gift of comfortable adventure with our Big Wasp Children Camouflage Slippers.
Perfect for all their outdoor escapades, these boys' shoes and clogs are built to last and provide endless fun without compromising on style or comfort.
Imported. Ethylene Vinyl Acetate sole. ULTRA-LIGHTWEIGHT AND PORTABLE:The weight is very light and will not burden the child's feet.Slip on style is easy to put on and take off, and heel strap keeps them in place.Drainage holes on sides of shoes prevent them from being weighed down by too much water. CUTE GARDEN SHOES WITH CARTOON PATTERNS: They are super comfortable, soft, lightweight, durable, easy to clean, breathable fast drying and waterproof. RELIABLE QUALITY: Each pair of the boys/girls beach summer sandals have been strictly inspected on production, you will not be disappointed with the durability, support and quality the kids sandals Slippers provided. CRADLING COMFORT: Incredibly light and easy to wear, the Boys' Clogs & Mules for boys are created with Croslite foam, offering Dual Comfort that is blissfully supportive, soft and cradling. FRIENDLY REMIND: After washing with soap, rinse it with water and it will be the same as new. Special reminder, special materials, do not expose to the sun after washing, just dry in the shade.
Hide
Pros
Clothing, shoes and jewelry
Cons