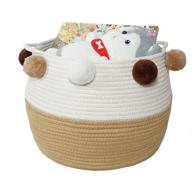 Round Baby Toy Floor Baskets - Shower Baskets, Indoor Planters, Cotton Rope Weave Throw Blankets, Pillow Laundry Baskets, Towels, Clothes Laundry Hamper, Storage Organize Bins for Kids Room

Review
3
Rating 
5.0
👶 Baby Furniture, 👧🏻 Nursery
View on Amazon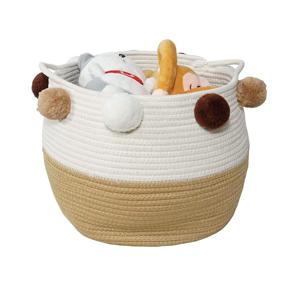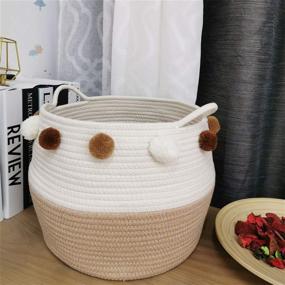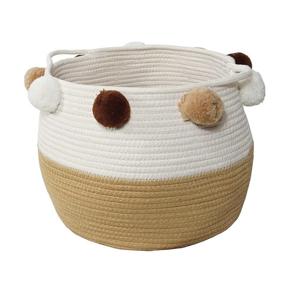 Details
| | |
| --- | --- |
| Color | White&Yellow |
| Material | Fabric |
| Brand | Dealone |
Description of Round Baby Toy Floor Baskets - Shower Baskets, Indoor Planters, Cotton Rope Weave Throw Blankets, Pillow Laundry Baskets, Towels, Clothes Laundry Hamper, Storage Organize Bins for Kids Room
Characteristics of Our Round Baby Toys Floor Baskets
Introducing our exquisite Round Baby Toys Floor Baskets! Crafted from high-quality cotton rope, these baskets are not only safe and healthy for your little one, but they also add a touch of charm to any nursery room. With dimensions of 11.8" in diameter and 10.2" in height, these decorative baskets provide ample space to keep your baby's toys, blankets, and other essentials neatly organized.
Similar Products Can't Compare
When it comes to versatility and style, our Round Baby Toys Floor Baskets outshine the competition. Unlike traditional storage solutions, these baskets offer a unique blend of functionality and aesthetics. With their cotton rope weave and beautiful design, they effortlessly complement any nursery decor. Say goodbye to plain and ordinary storage options and choose our baby baskets for an elevated look.
Solving Your Storage Woes
Are you tired of the never-ending clutter in your baby's room? Our Round Baby Toys Floor Baskets are here to save the day! They provide a practical solution to keep toys, throw blankets, pillows, towels, clothes, and more in one place. No more searching for missing items or tripping over scattered toys. Our baskets will transform your baby's room into a tidy and organized space.
Important Parameters for Consideration
Our Round Baby Toys Floor Baskets are not just visually appealing but also designed with functionality in mind. The sturdy cotton rope construction ensures durability, while the generous dimensions accommodate various items. The lightweight design allows for easy portability, so you can effortlessly move the basket from room to room. Simplify your life with this essential storage organizer.
Benefiting Parents and Babies Alike
These Round Baby Toys Floor Baskets offer a life-changing solution for both parents and babies. Parents will appreciate the convenience of having a designated place to store and organize their little one's belongings, reducing clutter and stress. Babies, on the other hand, will benefit from an organized environment that encourages play, learning, and creativity. It's a win-win for the whole family!
In the nursery room to store toys and blankets
In the bathroom as a laundry hamper for towels and clothes
In the living room as a stylish indoor planter basket
In the bedroom to keep throw blankets and pillows within reach
In the kids' playroom to store and organize their toys
Made of cotton rope, safe and healthy. A reliable basket for nursery room. Decorative Baskets Dimension: 11.8" Diameter x 10.2" Height. Large round basket to decorate your living room, playroom, bedroom, bathroom, and office. Easy to Move and Take Away: Woven Basket with Handles design helps you carry it from bathroom to laundry room, from playroom to bedroom. A classy home decor, no more toys and messes in any corner of your room. Cotton Rope Storage Basket suit for laundry hamper, bath basket, closet organization, nursery bins,toy storage,and etc. NOTE: The basket is folded in a bag, but it will turn back to its elegant shape quickly if you fill it with some towels or blankets and it can be ironed to remove wrinkles.
Hide
Pros
Made of cotton rope, safe and healthy. Reliable basket for a children's room.
Cons
Pros
Cotton rope storage basket is suitable for laundry basket, bathroom basket, wardrobe organization, baby drawer, toy storage, etc.
Cons
Pros
Easy to Carry and Carry: Wicker basket with handles makes it easy to transport from bathroom to laundry room, playroom to bedroom. Stylish home decor, no more toys and clutter in your room.
Cons
Cord is shorter than others