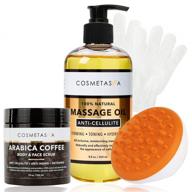 Anti Cellulite Massage Coffee Scrub Massager

Review
3
Rating 
4.6
💄 Body Makeup, 💄 Makeup
View on Amazon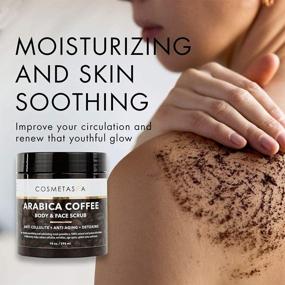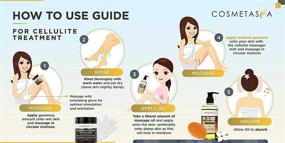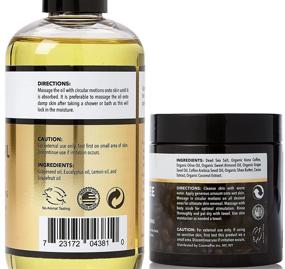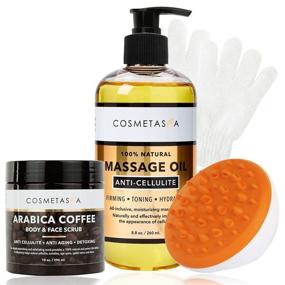 Details
| | |
| --- | --- |
| Brand | Cosmetasa |
| Scent | Coffee |
| Product Benefits | Moisturizing,Exfoliating,Moisturize |
| Skin Type | Dry |
| Recommended Uses For Product | Exfoliating,Moisturize |
Description of Anti Cellulite Massage Coffee Scrub Massager
STIMULATES TONING AND MOISTURIZING- Eucalyptus and grapefruit essential oils together with Grapeseed oil greatly contributes to our massage oil's regenerating, moisturizing, and skin tightening properties. So go ahead and reap the skin firming benefits of our effective massage oil and bask in the glow of your hydrated, supple and nourished skin. THE ULTIMATE MOTHER'S DAY GIFT SET- Treat your Mom to this exclusive and effective, nourishing, cellulite treatment. Cosmetasa's Massager Brush is designed to effectively stimulate your skin thereby draining excess fluids, and massaging away fat pockets. Use in conjunction with Cosmetasa's exclusive anti-cellulite massage oil for optimal tightening and slimming. (Do not use massage mitt on dry skin.). CAFFEINE COMBATS CELLULITE- This premium caffeine rich arabica coffee scrub may help reduce the appearance of cellulite, eczema, stretch marks, age spots etc. Caffeine is known to reduce the fat content within the skin cells and also helps stimulate blood flow. These factors can play a great role in diminishing the appearance of cellulite. SPA QUALITY MASSAGE OIL MADE IN USA- The Lemon essential oil included in our muscle rub will greatly stimulate your circulatory system which will then assist in effectively transporting and removing toxin buildup. Varicose veins are also relieved through regular use of our Massage oil since it ultimately improves circulation and relieves pressure on the veins. DOUBLE YOUR EFFORTS OF EXFOLIATION- Organic coffee grounds together with Dead sea salt are combined to maximize exfoliation. Scrub away dead skin cells, residual dirt to reveal fresh, young looking skin. The effective massager brush and exfoliating glove also increase exfoliation significantly. Exfoliation is of vital importance to improve your circulation and renew that youthful glow.
Pros
Smooths and rejuvenates skin
Cons
Pros
1. Exfoliates the skin: The coffee scrub massager helps to remove dead skin cells and promotes a smoother, more radiant complexion.
Cons
1. Requires effort and time: The use of the anti-cellulite massage coffee scrub massager may take some extra time and effort in your skincare routine, as it involves massaging the product onto the skin for optimal results.