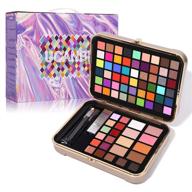 UCANBE All In One Makeup Kit: 77 Colors Combination Palette - Perfect Gift Set for Girls Makeup - Includes Eyeshadow, Highlighter, Contour, Concealer, Eyebrow, Lip Palette, Primer & Makeup Brush

Review
3
Rating 
5.0
💄 Makeup Sets, 💄 Makeup
View on Amazon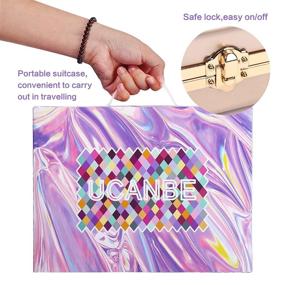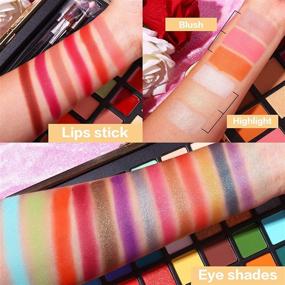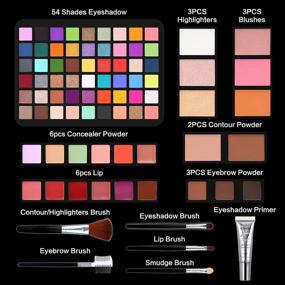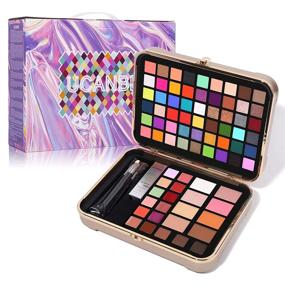 Details
| | |
| --- | --- |
| Brand | UCANBE |
| Item Form | Powder |
| Ingredients | TALC,MICA,ETHYLHEXYL PALMITATE,SYNTHETIC FLUORPHLOGOPITE |
| Finish Type | Metallic, Matte |
| Coverage | Buildable |
Description of UCANBE All In One Makeup Kit: 77 Colors Combination Palette - Perfect Gift Set for Girls Makeup - Includes Eyeshadow, Highlighter, Contour, Concealer, Eyebrow, Lip Palette, Primer & Makeup Brush
Product Description: UCANBE All In One Makeup Kit For Girls Makeup
Characteristics:
The UCANBE All In One Makeup Kit For Girls Makeup is a versatile professional makeup set that caters to all your cosmetic needs. With its comprehensive collection of beauty essentials, this makeup kit is perfect for daily use, cosplay, stage performances, Halloween makeup, and more. The kit includes a 54-shade eyeshadow palette, 3 highlighters, 3 blushes, 2 contours, 3 eyebrow products, 6 lipsticks, 6 concealers, and a set of makeup brushes. It offers a premium quality experience with a cruelty-free formula and ultra-micronized, vibrant shades ranging from matte to metallic.
Similar Products:
If you're in search of an all-inclusive makeup set, the UCANBE All In One Makeup Kit For Girls Makeup stands out among its competitors. While other kits may offer limited color options or lack certain components, this kit provides a wide range of shades and products to suit any skin tone and create various makeup looks. Its high-quality formulation and extensive selection make it a popular choice for makeup enthusiasts and professionals alike.
Problems Solved:
The UCANBE All In One Makeup Kit addresses the common challenges faced by makeup lovers. By offering a diverse palette of eyeshadows, highlighters, contours, and other makeup essentials, this kit eliminates the need to purchase individual products separately. It saves time, money, and effort while ensuring you have everything you need to achieve stunning makeup looks. With its cruelty-free formula, it also promotes ethical beauty practices.
Important Parameters and Home Comfort:
The UCANBE All In One Makeup Kit For Girls Makeup provides a comprehensive set of tools for self-expression and creativity. Whether you're a makeup enthusiast or a professional artist, this kit offers a wide range of options to experiment with different styles and looks. From natural and subtle makeup to bold and dramatic effects, the versatile palette allows you to unleash your imagination and express your unique personality. This kit is designed to enhance your home comfort by bringing a professional makeup studio experience directly to your fingertips.
Who Will Benefit from This Product:
1. Makeup enthusiasts looking for an all-in-one makeup solution.
2. Professional makeup artists requiring a versatile and comprehensive kit.
3. Individuals interested in cruelty-free beauty products.
4. Cosplayers, stage performers, and Halloween makeup enthusiasts.
5. Anyone seeking a wide range of vibrant and high-quality makeup shades.
Where can this product be used:
Daily makeup routines
Special occasions and events
Photo shoots and video productions
Theatrical performances
Makeup tutorials and workshops
All In One Collection Make Up Kit: it's versatile professional makeup set, laced with 54 shades eyeshadow palette, 3x highlighters, 3x blushes, 2x contours, 3x eyebrows, 6x lipsticks, 6x concealers, 1 set makeup Brush, meets all daily makeup, cosplay makeup, stage makeup, halloween makeup etc. Premium Quality: cruelty free formula, ultra-micronized, vibrant flattering shades are easy to shade and stretch ranging from matte to metallic. These makeup mixing palette serves for any skin tones to create natural, bold, smokey or dark eye makeup looks. Using eye primer as based foundation could be more staying power. Creating Various Eye-Catching Effects: the makeup pallet helps you acheving any gorgeous looks vary from mattes, shimmers to micro glitters shades, swatches different roles any time - sweet girl style or queen style, perfect for day and night. Super Stocked: maximize space to reveal full array of makeup products with clear classification from eye shadow to makeup brush kit. A good makeup gift set brings you unexperted surprise and impression, deserve to try it!. Ideal Womens Travel Kit: elegant low-key champagne make up box, lock safly, easy on/off, convenient to carry out for travelling or business.
Hide
Pros
Everything you need for a great makeup look in one set. Great pigmentation and soft brushes.
Cons
Some fallout in eyeshadows.