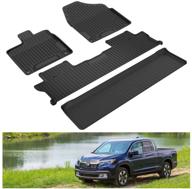 KIWI MASTER All Weather Floor Mats for 2017-2021 Honda Ridgeline – TPE Slush Liner, Black, 3 Row Seat, Front and Rear, 08P17-T6Z-100

Review
3
Rating 
5.0
👣 Floor Mats & Cargo Liners, 🚗 Interior Car Accessories
View on Amazon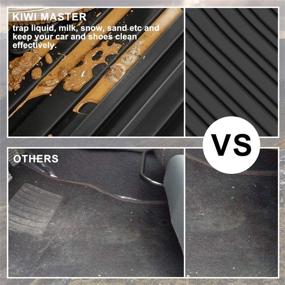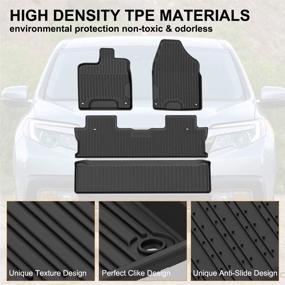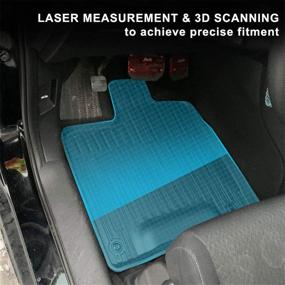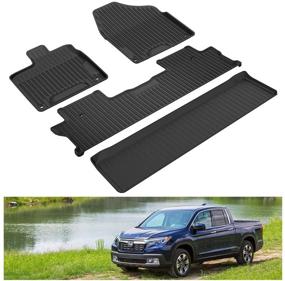 Details
Material
Thermoplastic Elastomer
Color
Black
Brand
Kiwi Master
Vehicle Service Type
2017-2021 Honda Ridgeline
Position
Inside
Fit Type
Vehicle Specific Fit
See 1 more
Description of KIWI MASTER All Weather Floor Mats for 2017-2021 Honda Ridgeline – TPE Slush Liner, Black, 3 Row Seat, Front and Rear, 08P17-T6Z-100
▶ PERFECT FIT HONDA RIDGELINE MAT - Compatible for 2017 2018 2019 2020 2021 Honda Ridgeline All Models. Digitized computer modeling of Ridgeline floorboard measured to exact cabin contours of your Ridgeline with raised edges that give maximum coverage & protection to vehicle interior. ▶ ALL WEATHER FLOOR MATS FOR HONDA RIDGELINE - The rugged and sporty floor mats perfectly conform to the contours of your ride and offer un-beatable carpet protection for whatever nature hurls at you. This unique design keeps mud, snow, water and debris off your vehicle's expensive, hard to clean carpet. Must-have floor mats to protect your vehicle from all of messes. ▶ NON-SMELL & DURABLE FLOOR LINERS - KIWI MASTER floor mats are made with high-density TPE materials allows for a rigid core for strength while offering surface friction to the carpet, as well as tactile feel to the surface! Non-toxic and odorless TPE material ensures you are 100% safe even in extreme hot weather, contains no latex, cadmium, lead or any harmful PVC. ▶ NON-SLIPPERY DESIGN & EASY TO CLEAN - Works with factory hooks and fasteners, the anti-shift nibs on the back of the mats grip the carpet and helps hold your mats in place without the use of additional fasteners. If it is dirty, simply remove the floor liner from your Ridgeline and clean it off with a hose. ▶ LIFETIME WARRANTY - Please feel free to contact us by Amazon Messages if you have any questions.We offer a LIMITED LIFETIME warranty on products damaged during delivery or that have a confirmed manufacturer defect, we will provide you with a satisfactory solution.
Pros
Easy to install on the car.
Cons
May require frequent cleaning due to its material that attracts dust and debris.
Pros
Floor Mats and Boot Covers
Cons