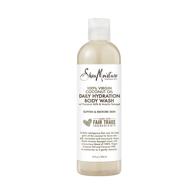 Shea Moisture Coconut Oil Bubble Bath & Body Wash - 13 Fluid Ounce - Daily Hydration, 100% Virgin Coconut Oil

Review
3
Rating 
4.5
💄 Body Makeup, 💄 Makeup
View on Amazon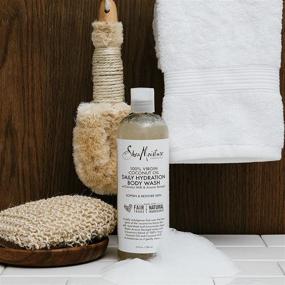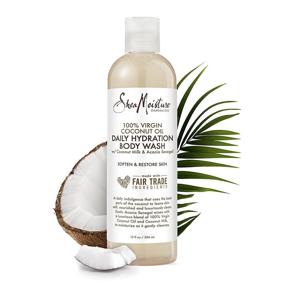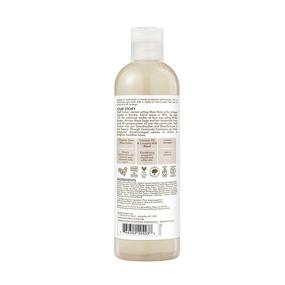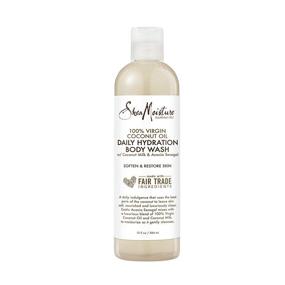 Details
| | |
| --- | --- |
| Item Form | Oil |
| Use for | Hands |
| Brand | SheaMoisture |
| Scent | Coconut |
| Skin Type | All |
Description of Shea Moisture Coconut Oil Bubble Bath & Body Wash - 13 Fluid Ounce - Daily Hydration, 100% Virgin Coconut Oil
Product Description: Shea Moisture Coconut Oil Hydration Body Wash
Introducing the Ultimate Hydration Experience
Discover the Shea Moisture 100% Virgin Coconut Oil Daily Hydration Bubble Bath & Body Wash, your key to experiencing the softest, most radiant skin you've ever had. This luxurious body wash is meticulously crafted to soften and restore your skin, providing a daily pampering ritual that will leave you feeling rejuvenated and refreshed.
Revitalize Your Skin and Hair
This remarkable product not only offers incredible benefits for your skin but also caters to your hair's needs. Enriched with the goodness of virgin coconut oil, it is perfect for those who've experienced the damaging effects of hair perms, relaxers, and texturizers. The hydrating properties of coconut oil work wonders in replenishing dry, brittle hair, making it smooth, luscious, and full of life.
Key Differentiators
What sets the Shea Moisture Coconut Oil Hydration Body Wash apart from other body makeup products is its commitment to using all-natural, ethically-sourced ingredients. Free from harmful chemicals like sulfates and parabens, this body wash stands out as a healthier and more eco-conscious choice for your daily skincare routine. Its rich, foamy lather envelops you in a tropical oasis, making your bathing experience truly indulgent.
Where Can You Use It?
Here's a versatile product that can be incorporated into various aspects of your daily life. You can enjoy the benefits of the Shea Moisture Body Wash:
In your everyday bath or shower routine for a deeply nourishing cleanse.
As a luxurious bubble bath, transforming your relaxation time into a spa-like experience.
As a soothing body wash, providing lasting hydration to combat dryness throughout the day.
As a hair wash to revive and strengthen your locks, especially if you've had hair perms, relaxers, or texturizers.
Who Will Benefit From This Product?
Shea Moisture Coconut Oil Hydration Body Wash is an excellent addition to the self-care routines of those seeking holistic skincare and haircare solutions. If you're passionate about using natural and organic products that deliver exceptional results without compromising your health or the environment, this product is tailored for you. Embrace the rejuvenating power of coconut oil and treat yourself to the ultimate hydration experience with this exceptional body wash.
Soften and Restore Skin. Smooth and hydrate skin with our multipurpose, rich and hydrating bubble bath and body wash. Exotic Acacia Senegal mixes with a luxurious blend of 100% Virgin Coconut Oil and Coconut Milk, to moisturize as it gently cleanses. Organic Raw Shea Butter: Deeply moisturizes with vitamins and essential fatty acids; Coconut Oil and Coconut Milk Blend: Conditioning properties smooth and soften skin; Acacia Senegal: Seals in moisture. Apply to washcloth or hands to cleanse entire body; For a luxurious spa bath add a capful to warm water and use a natural bath sponge. Made with Fair Trade Shea Butter. No sulfates, no parabens, no phthalates, no propylene glycol, no mineral oil, no animal testing and no petroleum. Hair type: curly textured Hair.
Hide
Pros
Hydrating, gives a healthy glow, natural ingredients
Cons