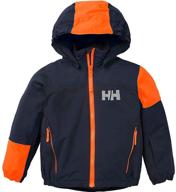 Helly-Hansen Kids Rider 2 Ski Jacket: Insulated, Waterproof & Windproof!

Review
3
Rating 
3.7
🧥 Boys' Jackets & Coats, 👕 Boys' Clothing
View on Amazon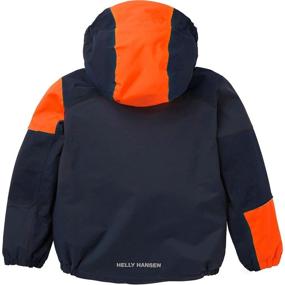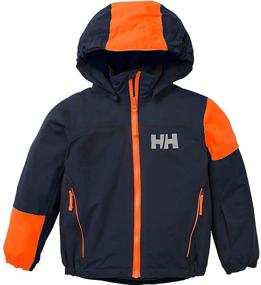 Description of Helly-Hansen Kids Rider 2 Ski Jacket: Insulated, Waterproof & Windproof!
Product Description: Hansen Insulated Waterproof Windproof Breathable
1. Key Characteristics
Introducing the Hansen Insulated Waterproof Windproof Breathable jacket, a top-notch choice for boys seeking optimal protection and comfort. This high-performance jacket boasts Helly tech technology, ensuring superior waterproofing, windproofing, and breathability. Crafted with a face fabric made of 100% Polyamide and a back fabric of 100% Polyurethane, it guarantees excellent durability and resilience. The fully seam-sealed construction provides an added layer of reliability, while the Hi Vis fabric on the hood and sleeves enhances visibility for added safety. With a soft brushed Tricot lining inside the collar and chin guard, this jacket offers exceptional warmth and comfort during chilly adventures. The elasticated cuffs and partly elasticated bottom hem ensure a snug fit, while the YKK VISLON front zipper with back placket provides extra protection. Additionally, two hand pockets with YKK zip closures offer convenient storage for essential items.
2. Versatility and Similar Products
Designed to withstand the elements, the Hansen Insulated Waterproof Windproof Breathable jacket is a versatile companion for boys' outdoor activities. Whether it's hiking, camping, or simply exploring nature, this jacket delivers optimal performance in various weather conditions. Its superior insulation and waterproof capabilities make it ideal for winter adventures and rainy days alike. Similar to other premium outdoor jackets, it combines functionality, durability, and style. With its exceptional features and quality craftsmanship, the Hansen Insulated Waterproof Windproof Breathable jacket stands out as a reliable choice, outperforming many competitors in the market.
3. Solving Problems and Beneficiaries
This remarkable jacket effectively addresses the challenges of unpredictable weather conditions, providing a reliable shield against rain, wind, and cold temperatures. It eliminates the discomfort caused by moisture and ensures breathability to prevent overheating during physical activities. The Hansen Insulated Waterproof Windproof Breathable jacket is particularly beneficial for active boys who enjoy outdoor adventures, sports, or leisure activities. Parents seeking a high-quality, durable jacket that offers excellent protection and comfort for their children will find this product to be an ideal choice. Not only does it keep boys warm and dry, but it also provides the freedom to explore and enjoy nature without compromising on style or performance.
Outdoor sports and activities
School trips and excursions
Camping and hiking adventures
Everyday wear in unpredictable weather
Winter vacations and ski trips
Face: 100% Polyamide; Back: 100% Polyurethane. Imported. Zipper closure. Machine Wash. Helly tech performance - waterproof, windproof, & breathable. Fully seam sealed & Hi Vis fabric on hood & sleeves. Soft Brushed Tricot lining inside collar & chin guard for extra warmth & comfort & elasticated cuffs & partly elasticated bottom hem. Ykk VISLON front zipper with back placket for extra protection & two hand pockets with YKK zip closure. Articulated sleeves & reflective piping & HH logos.
Hide